We arrived at the Farm last week, excited to be back amongst our South African family. The sun was shining, the garden was blooming, the ducks were busy in the vineyard ….. it was good to be back.

We stayed up the new Fynbos rooms (which opened on 20th December) which sit proudly at the top of the Farm, past the dam, and boasting the most spectacular, breath-taking views towards Paarl and Klapmuts and the mountains beyond. Just being slightly elevated really give these rooms a sense of space, privacy and seclusion. Each room has its own golf buggy and set of bicycles so that you can choose how you want to get around the farm and there are cats eyes set in to the path making navigation easy (and fun) when it gets dark. There are 4 2 bedroom cottages and 2 one bedroom cottages, common rated with the other cottages on the farm and very similar in style with the gorgeous open fireplaces and long kitchen tables laden with seasonal produce from the garden. Behind the rooms and secretly located behind a bank of plants, lies the pool, hot spa and Pool Room where guests are welcomed and checked in (like the Green Room and Butterfly Room at the Farmhouse). The location is stunning and once all the plants and fynbos have become established, it really is going to be a spectacular setting. It just needs a season, everything here grows so quickly. New pictures will be available soon.     
And to the NEW activities:
We went on the afternoon sunset drive up Signal Hill and we cannot not recommend this highly enough. One of the gardeners is your guide and collects you in a Landrover, armed with a basket of goodies. Although it is only about 8km to the top, it is a steep climb up and takes about 40 minutes.  Once at the top, the view is amazing and, weather permitting (which is most of the time) you can see all the way to Table Mountain while you sup delicious Babylonstoren wine and nibble on some home produced biltong, roasted nuts or freshly peeled fruit. We loved it.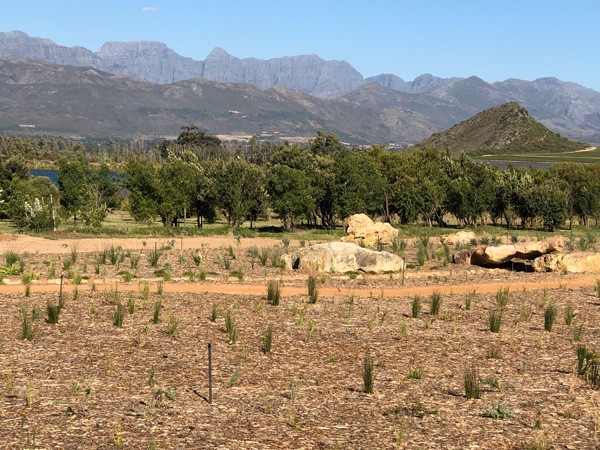 We went on a speciality tour of the cycads and succulents of the garden too whilst we were there, with one of the specialist gardeners. He was so passionate and excited about this incredible collection that it was impossible not become passionate and excited too. The cycad collection is full of rare plants that need constant monitoring, care and attention and many of the plants are incredibly old, special and valuable.
And then to the wine tasting…well, it had to be done again with a new wine to sample. We went on a cellar tour first and then through the olive press room now that the Farm makes its own olive oil, both a blended and pure variety as well as bottling olives to sell. We were excited to try out the brand new white wine, Candide, which was so fresh and light on the tongue, we just had to try a second glass to be sure…! It really was delicious.
As to retail therapy – my goodness…all I can say is that Helen had to buy a second bag! There is the new Scented Room where guests can make their own bath salts and treatments using essential oils, grown and distilled on the Farm as well as other lovely scented products.  A Lekker Room has also been added selling all kinds of delicious sweet treats, home-made chocolate, roasted nuts and dried fruits. There is the all important and totally gorgeous Farm Shop of course and behind this, the Bakery (where you can learn to make and bake bread with the team), the Cheese Room and of course the Charcuterie selling the most delicious home-made biltong from our own Babylonstoren cows.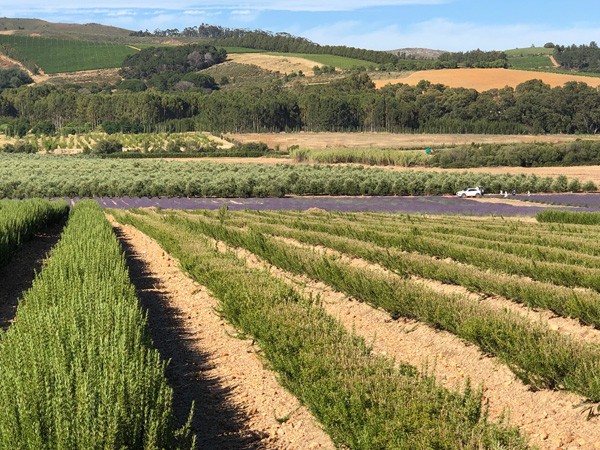 Talking of cows…on Wednesday nights, a Meat Evening has now been introduced to the Farm. Oh. My. Goodness. It was a fun-filled, relaxed, quite loud and totally entertaining evening. With long tables and guests all intermingled, it was a five course meat evening beginning with home-made biltong and ending with delicious fillet steak and everything in between. Helped along with the smooth and delicious Babel red, we cannot recommend this evening highly enough. Oh – Babel is open for those who do not partake.
We hope our update has inspired you to come and visit the Farm and to recommend it to your clients as a Winelands option. We know most guests only come for 2 nights but there are so many amazing experiences to be had now, that we found it was a struggle to fit just the new activities into the three days we were there. But someone had to and we were happy to volunteer for the task.