During these unprecedented times, our partners are working hard to ensure the wildlife and land remain wild and both staff and community remain well and healthy. They are ready to welcome guests back as soon as travel allows. We thought it would be interesting to ask them 10Q to share with you which we will do in the coming weeks, watch this space. As some fun and to kick start our mini series, here are the 10Q as answered by us:
Please introduce yourself by telling us what inspired you to start MWW?
S: It was a fantastic opportunity to work together as partners and a collective decision to only work with people on the ground who were as enthusiastic and dedicated to conservation and making a difference in Africa as we were. It's all about the stories and not about the fixtures and fittings!
H: having worked together for many years we wanted a fresh start and who better to do this with but Sally as a partner in crime.  We set out looking to be inclusive of outside of Africa, but our hearts remain firmly with this amazing continent, where we have met and now work with people passionate about what they do, whose company we enjoy and dedicated to conservation, communities and making a difference in their local area.   If you are passionate about what you do, you will never work another day of your life, this adage completely sums it up for me!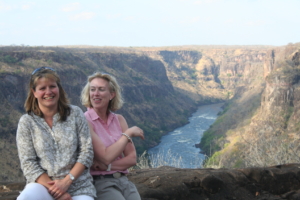 Did you always dream of working in this industry or did you set out to do something else?  What led you to where you are now?
S: I always wanted to work in travel ever since I can remember listening to an old family friend's stories of travel and cultures over her lifetime. Her tales inspired me and amazingly, she recommended me to a travel company after University.
H: I always dreamed of working in travel and fell into it completely by chance, first working for Best Western.  I soon switched to destination Africa and have never looked back.
What has been your greatest challenge(s) along the way with MWW?
S: Starting a business in the heart of a recession and make a success of it.
H: Working with Sally, hee hee.  We have had to turn away partners and take some difficult decisions to keep our integrity.
What one 'thing' has been integral to your journey from the start?
S: Our hugely successful friendship and working relationship.
H: Ditto!!
Do you have a favourite area to travel to and why?
S: Anywhere truly remote in Africa. I have to say Mwaleshi in Zambia or Jozibanini in Hwange, Zimbabwe are both highlights for me.
H: I have a top 5 pinch me moments – 1. Kenya – the first place I went on safari back in the '80's 2. Mwaleshi in Northern Luangwa, possibly the most remote area I have ever visited in Africa 3. Jozibanini – sleeping under the stars at this camp in remote Hwange NP and watching the shooting stars was just incredible as well as the story behind this Camp inspired by Mark Butcher who has definitely been one of the most amazing and inspiring people I have met 4. Ballooning in the Serengeti – definitely a pinch me moment 5. A difficult decision…  Durban for all the amazing moments and fun I have had at Indaba with the African tourism industry for many many years!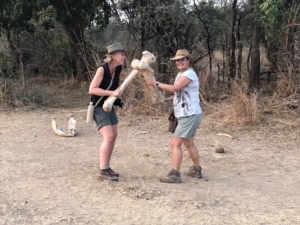 What is your favourite season or time of year?
S: In the UK, Autumn as this means warm colours, winter boots and getting the fire going. In Africa, it has to be the dry season for incredible and up close game viewing.
H:  In the UK, Spring – the vivid greens as the shoots come through and days become lighter for longer. In Africa, I love it just after the rains, when it is still cool, with new babies and bird migrations.  It all feels fresh and when you see the wildlife it is healthy and relaxed.
What are your top three reasons for visiting Africa?
S: The People. The Wildlife. The Conservation efforts. Oh and it has to include the remoteness from normal civilisation.
H:  Ditto of course but also the smell when you step off the plane, the warmth of the sun on your face that gradually warms your bones and of course sitting around the campfire swapping tales after an amazing day out on safari.
What is the most pressing issue for you right now, in terms of the impact of Covid 19?
S: To ensure we still have a business at the end of it.
H: and helping our partners try and support their staff, the communities and conservation efforts so we all emerge stronger.
What can people do to support conservation and communities where you are, during this time? 
S: At home, it is the little things that mean a lot. Helping those around me who cannot get out for food and medicine, who need help in their gardens and to make time for those that need time to talk.
H:  We have also listed some of the fund raising efforts that our partners are undertaking but the main thing is to help us deliver the message to your clients that their money can really help survival of these companies and the conservation and communities that is reliant on them.
Is there anything you would like to say to past and potential guests and the travel trade community?

S: To support each other as much as we can. To give where we can to ensure communities in Africa survie and anti-poaching teams can still continue their amazing work. To travel as soon as you can. To postpone your trip and not to cancel.
H:  We are looking forward to stepping the path with you. People will continue to travel and Africa will beckon, we want to be there with you and share the new journey that is ahead of us all. From our families to yours, we look forward to seeing you on the other side but remain here should you like to chat through a T&C issue, check website facts and update photography, share social media ideas, we are here on Zoom, Skype, Team or Google meet or even the phone, take your pick, we are looking forward to connecting with you soon!