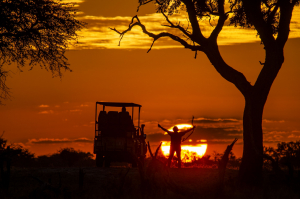 Does this photo make you take a deep breath and embrace the view? It transported us back to Hwange, smell the air, take a sip and read our latest blog. Imvelo recently shared a blog from Meagan who left her travel job in the US and has spent 3 months at Bomani, she shares her perspective on why travel is even more important now as well as the healing power of nature.  Photo courtesy of Duncan Watson.
'Hi there, my name is Meagan Yash and for nearly 15 years I have worked at Global Basecamps, a boutique travel company located in Encinitas, California. Throughout my career in the travel industry I've been lucky to travel all over Africa and after every safari I ever went on, I've always dreamt of spending an extended time at a safari camp but figured it was simply that… a dream. Then 2020 struck and all our worlds were turned upside down but somehow it took this massive shift for me to make that dream come true and take a leap of faith and here I am, three months in, writing to you from Bomani Tented Lodge in Hwange National Park.
There's no denying that 2020 was a year of anxiety and uncertainty for us all. As the world started to reopen, I realized that there was a lot I needed to unpack in order to clear my head before I could move on. I needed to unplug, disconnect and create space for myself; under my own terms. The pandemic has impacted every person on this planet to a varying degree and as a travel industry professional we had the added stress of wondering if our small businesses would survive, if our international partners (and dear friends!) would survive and, of course, the never-ending client cancellations and postponements.  After the maddening chaos of 2020, I deeply yearned for that space, solitude and joy that you can only find in nature.
Six years ago, I came to Zimbabwe on an Imvelo Fam trip and it was love at first sight. Not only did I feel a soul connection with this beautiful country and her resilient people, but I was completely blown away by Imvelo and all that they stand for.  I promised myself that one day I would return and stay awhile.
So here I find myself today in Hwange National Park where I have spent the last few months living mostly at Bomani Camp. Now, a few months in, I feel as though I'm a part of the furniture. Here, my daily worries consist of remembering to keep my door shut so that the pesky monkeys don't get into my room; always being aware and on the lookout for wildlife when I come and go from my tent; and trying to identify bird and wildlife sounds when I'm going to sleep at night.  It's simple.  I have found that peace and quiet that I was desperately craving after the lockdown where we were constantly distracted by endless news cycles, Zoom meetings, Netflix and social media,….  Funny, before I left, I remember telling my mother that I just wanted to quiet my mind enough to read a book… I'm currently on my fifth!
But what I wasn't counting on, is how much I've been impacted by all of the people I have met along the way.  Not only have I formed close friendships with the Imvelo team and other industry professionals throughout Zimbabwe but I've also been deeply moved by all of the guests I have met and interacted with at camp. Seeing people travel again has been incredibly heart-warming.  I've always been on the other side of things…. helping to plan and prepare client trips yet never experiencing the joy and awe on guests faces as they first arrive in camp or see their first elephant or lion in the wild.  It's like going on safari for the first time over and over again and that gives me hope and reminds me why we do what we do; to open people's eyes to the world and to create experiences of a lifetime. And now, more than ever, it is evident that people are yearning to reconnect with nature. With each guest that visits camp, throughout their stay I very much observe the transformation that takes place as they shed the stress and worries of their everyday lives and a sense of calm and wonder sets in.
Excitement too, of course, as the game viewing has been absolutely incredible! Cheetah, lion, cubs, more elephant than you can count, huge buffalo herds and so much more.  And things are heating up as we get further into the dry season.  Just the other day, guests at camp saw five lion take down a buffalo just behind camp! And earlier this week, we spotted Cindy (the famous resident cheetah) chasing impala from the dining area and quickly drove out to find her and her three cubs not more than 1 – 2 km away. Pure magic!
The travellers that I've had the privilege of interacting with the past few months seem more open and eager than ever!  Every guest that I have met here is just beyond thrilled to be traveling again, excited to chat, create connections and collectively agree that any challenges they may have faced getting here have been one hundred percent worth it. But, I've always said that after one day in the Bush, all the pre-trip anticipation and long flight over seems like a lifetime ago.  Nature is truly that healing and powerful….. but human connections are too.
That's the beauty of travel…. Yes, it challenges us and opens our eyes to new cultures and ways of life; but ultimately it is a vehicle that has the immense ability to form deep and meaningful connections. Traveling has always reminded me how small this world is and how similar we really are at the end of the day. So, while I thought I came to Zimbabwe seeking solitude, in fact, I found my joy again in the relationships that I have made here and the people I have met along the way.
I am truly living my dream, and I know how incredibly fortunate I am to say that. I love every minute of being out here in the Bush and beyond my own self-growth and transformation, I've been so happy to share this beautiful part of the world with friends who have never been to Africa and chose to come visit me here in Zimbabwe this Summer.  And while I will be sad to leave when the time comes, I have also found a renewed sense of excitement and hope for the future.  It has never been more evident to me that people want to travel, that they need to travel, and I wholeheartedly believe that there is no better time to go on a safari than now.  I have always described Zimbabwe and Hwange National Park as an authentically wild and raw safari destination and I think that's exactly what we are all seeking, now more than ever,…. the time and space to be wild and free.  Thank you, Imvelo, for sharing this piece of paradise with me; your fierce and unwavering commitment to Hwange's communities and wildlife is truly inspirational and leaves a profound impact on the lives of your guests.  And to all of my travel industry colleagues reading this, if your clients are looking for a truly meaningful and life changing safari experience, rest assured they'll find it right here in Hwange with the Imvelo team. And if I may, just one last piece of advice, be sure to add in an extra day or two to allow time for your clients to relax, take in the beauty of it all and perhaps even finally get around to reading that book!'
Meagan Yash, September 2021