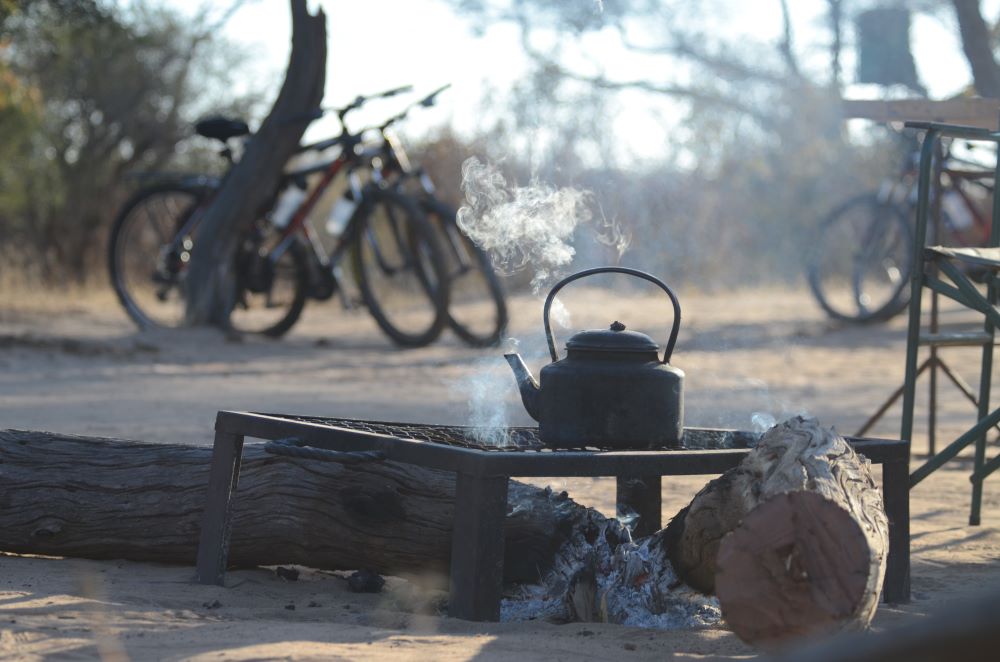 Helen's turn to escort the UK fam trip to Zimbabwe!
Sleeping out under the stars, listening to the sounds of Africa, has long been a dream.  Here I was at Jozibanini with a chance to sleep out on the deck and spot shooting stars.  Could I brave it?  What about sleeping without a mozzie net too, there are no bugs here and it spoils the view.  Why did a flimsy piece of netting suddenly seem to be so important?
I returned to my tent, the bed had been rolled out on to the deck and in I crept, I didn't see one shooting star, but the cool clear night closed around me and washed my fears away.  The only thing that woke me was a dung beetle, it was flying low just above my nose, but I pulled up the duvet and next thing the pink tones of sunrise gently woke me. Wow! I felt such a sense of peace with Jozi in the depths of Hwange, 6 hours from the next nearest camp.  I had fallen in love with this special place and the second night I did manage to see 3 shooting stars before one of my deepest sleeps during the whole trip.
Butch was guiding us; me and a small group of agents, keen to learn about Imvelo Safari Lodges.  We were visiting each of the lodges for a night, all different and unique and offering some spectacular experiences.
We kicked off with Verreaux Eagle viewing from the deck of Gorges Lodge followed by some energetic traditional dancing and a Braai on the lawn, Kris and Debs always make our trips so welcome on our first night.  The views along the gorge below drew us in. A perfect sunrise, coffee in hand, preparing us for the busy day ahead.
Canyoning in the Dibu Dibu Gorge, certainly an experience that pushed my fear of heights and tested me, however Andy, Canyoner Extraordinaire, encouraged and calmed us taking me beyond what I expected to achieve.  Abseiling 25m, climbing back up, zip lining and Jack, our most intrepid canyoner jumping in at the Skull….need I say more.  Exhilarating and what a sense of achievement.  The most important thing to note is that Andy can tailor this activity to each guest's capabilities. Some of the group clambered and enjoyed the peace and beauty of the Gorge before heading to Vic Falls, others will be able to go all the way to the bottom where the Zambezi thunders past, he even mentioned a 180m straight climb, not for me but something that's in the pipeline.
Next up Hwange
Here we joined the Elephant Express, a small tram that takes guests from Dete (Hwange NP main entrance) to the Imvelo Camps in the South of Hwange, Bomani and Camelthorn.  Quick lunch and beer in hand as we trundled out of the station.  Open sides on the trolley car, spotting game along the way and a quick stop at Cecil's tree when we pulled over for a freight train and watched the monkeys clambering over its carriages.  On to Ngamo with a few learner drivers having a go.
Camelthorn beckoned but lions had been spotted so we rushed out again before on to a G&T sundowner stop, dinner under the stars and so to bed.  Loved the new splash pools on the decks, I looked longingly at them we left.
Ngamo Community A quick visit to Ngamo village to meet the Headman to see what Imvelo has achieved with this community and their understanding and welcoming of tourism and the importance of the wildlife, the schools, the community visits, a new clinic.  Not just the ones we could see during our short stay.
The school children were on holiday but a few had been keen and we took them out on a game drive.  Singing to us along the way, they were so excited to see the elephant and zebras but they found the funniest of all was the baboons.  Their giggles were infectious.  On to Stoffie's pan for some time in the look up hide and to watch the elephants up close.  The kids were in awe, as were we of them, beautifully behaved, effortlessly polite and so so happy to be watching the wildlife.
A few treats and we waved them goodbye, a special moment for us all and a greater understanding of the issues facing conservation, wildlife and communities across Hwange.
On to Bomani.  Oh so different again and time for a quick cooling dip in the new pool, cheetah had been spotted.  The light was failing but we managed a few snapshots and later identification by the Cheetah Zimbabwe Foundation showed that these were 2 new males to Hwange, now named the Khumalo boys.  The following morning, we found 2 more cheetah, Cindy and her one remaining cub.  They posed beautifully in the golden light – we had seen 4 of the 40 cheetahs currently known in Hwange.
Horse riding. We mounted beautifully schooled horses and riding out on the Bomani concession was beautiful (if only I was a better equestrian!) and apart from one of the horses being keen to have a roll in the mud with Janine on board, we dismounted unscathed and continued on to the newest development by Imvelo.  Such is the relationship with the community that they have agreed to create a wildlife sanctuary on their own lands to create a further wildlife area around the NP. This will be looked after by a new anti poaching patrol, the Cobras.  We had a VERY unexpected meeting with one of their patrols, made our hearts race.  Watch this space for more information about the new Wildlife Sanctuary.
Then Jozi beckoned. It is a long drive, stopping at several waterholes giving us a feel for the Pump Run, one of Imvelo's signature safaris.  A quick lunch… delicious burgers and salad.  We arrived in to Jozi in time for sundowners around the fire and then that night under the Stars.
Cycling up next…and after much seat height adjustment, instructions and a safety briefing, off we went…slowly slowly but so peaceful, we cycled along tracks to several waterholes.  It was blissfully quiet, we stopped and learnt a lot along the way.  Finally arriving at such a pretty spot for a wonderful cooked brunch, starting with fatcakes (think donuts).  They were drop dead delicious and naughty but so welcome after all that exertion.
Time for a bucket shower and a relax before heading to the look up hide at Jozi, we had heard the elephants and seen their grey forms gathering at the waterhole the night before but now we had time to wait and watch.  We didn't have to wait long, several bulls came to visit and then just as the sun was setting, a breeding herd moved in.
On to Nehimba, following the back route, with Polly on axe duty, clearing the way.  What an adventure and then we saw a lioness as we reached the Nehimba concession, the largest private concession within Hwange National Park.  Delicious food and great fun at our sundowner stop here, everything was gloriously green.  Time for a quick dip in the newly designed pool and with the regular visits of elephant in mind, the camp has made it easier for the ele to step out of the pool when they fall in, a regular occurrence right next to the dining and fire pit.
So as we said goodbye to Hwange, we saw a leopard along the road…. wow…  then back to Victoria Falls and Zambezi Sands…  what else can we fit in…?
Victoria Falls 
Canoeing! The fastest canoeing trip I have ever experienced. The waters were high, making the Falls at their most impressive but it meant the water carried us along quickly.  A quick dodge, keeping left of some grumpy hippos, we were nearing our final sundowners.  Watching the sun set over the Zambezi River is a glorious and memorable moment.  We were all soaking wet, I cannot quite recall wonder who started the splashing?   Serene, happy, content, Africa has woven it's magic once more.  Thank you Imvelo for another utterly memorable trip, nowhere can you 'do' more on safari. Helen