We were excited to visit Uganda, a first for us both, we didn't know what to expect but it totally captivated us.
We flew with Kenya Airways via Nairobi but we had looked at Ethiopian and were hoping to use the new and planned Rwandair option but it is still work in progress.
We were met by Joseph from Churchill Safaris, our driver and guide for the next 9 days, wearing a Churchill shirt and holding a board and a big welcoming smile.  Uganda is full of polite, welcoming, English speaking people, it is their main and universal language.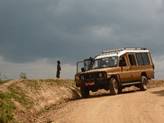 We visited the offices and met the team as well as checking out the workshop and having lunch with Ether, the owner and hands on MD.  Churchill have 14 short and long based land cruisers with either four or six seats as well as two minibuses suitable for those that find land cruisers tricky to climb in and out of. 
Onwards for a city tour and site inspections, wow Kampala traffic is something else…  Described as a flowing river, just go with it but it is a slow slow stream…  Allow plenty of time to access this city, we spent about 4 hours or more sitting in traffic!
Entebbe vs Kampala
Stay in Entebbe if possible, we preferred it to Kampala, mainly because of the traffic though the restaurants, shops and optional city tour activities are more varied in Kampala.
From Kampala we drove to Fort Portal, stopping along the way to look at eucalyptus nurseries and other interesting roadside sights.  The roads in Uganda are generally well maintained and dotted with rural towns and entertaining sights, how many plastic boxes can you fit on a motorbike?   We lunched in Fort Portal and continued on for more site inspections, eventually arriving in Kibale.
The Crater Lake area is stunningly beautiful, with walks, hikes and lots of activities on offer; we think this would be a good 3 night stop, including the chimps, but there is so much more to enjoy and a dip in a crater lake is something we will definitely include next time.

Off to trek the chimps – Kibale has 1450 chimps with 120 habituated for tourist groups and 2 research groups. 1 more tourist group is currently being habituated.  We decided against a porter as the terrain looked fairly flat but one of our group did and found it a great help.  We had a briefing and set off, initially in our vehicle, to a setting off point and then trekked for about 30 minutes, listening out for the shrieks.  It was breakfast time and the chimps were munching on wild figs….  Up in the trees, they were difficult to spot and photograph but we kept going and found some of the males on the forest floor.  Males are much more relaxed and happy to be photographed…  Even posing nicely…

Up next Queen Elizabeth National Park…  We arrived into the Kasenyi area and whilst beautiful we were surprised not to see lots of plains game, however we soon got into the swing of it and were enjoying the wonderful birdlife, Uganda Kob and big herds of buffalo.  We saw more buffalo in Uganda than we have seen anywhere else.   Nearly sunset and we spotted 2 lions lazing in a tree, we weren't even in Ishasha and here they were.  Beautiful…    Kasenyi is the best area for general game.

We spent 2 nights in QE, moving on to Mweya for our second night, what a position overlooking the channel and the boat trip we took was a real highlight….   The boat provided excellent photographic opportunities for all the game at the water's edge, prolific birdlife and a village to boot.
We drove south and found a little gem of a place near Ishasha called Enjojo Lodge, a small boutique, simple lodge with a warm welcome, stunning view and easy access to this lion climbing tree famed part of QENP. More site inspections, there are plenty of options in this area…  A photograph of hippos the other side of the border in the Congo and onwards to Bwindi.

Gorilla trekking had to be the highlight of the trip and it lived up to its reputation and expectation….  I trekked in Rwanda many moons ago and found the terrain more open but it was exciting and we were fortunate to only trek for about 30 minutes before locating the group.  Sitting, following, sliding, tripping over and generally holding on for dear life, the experience of being with these mountain giants was very moving.   We would do it again in a heartbeat.


Our final destination was Lake Mburo, just to break the journey back to Entebbe, or so we thought.  Here we found our favourite lodge of all, Lake Mihingo.  Lake Mburo is a small NP with a lake and offers boat and game drives, however from this lodge you can cycle, ride, run, visit a community, night game drive with good leopard sightings results or sit by the pool or in your room and enjoy one of the best views to be seen.    This would work really well for a few nights on arrival to rest and recuperate or at the end before the long trip home.
We have worked closely with Ether and Raymond since our return to put together what we think could work in this market, please contact us if you would like some sample itineraries or would like to read a more detailed report including more about the lodges we visited and the National Parks?
Helen Simmans