A positive way to end the year 
What a year it has been, for all of us. And yet, what an achievement by all of us too.  In what has been another tough year, we have all supported each other, stuck together and made it through and there is no-one we would rather be on this journey with than all of you. Thank you for your encouragement and words of support and we look forward to a happier, healthier and successful year next year for us all.
Despite everything, it has been about celebrating achievement this year too. The following clip is an incredibly inspiring watch.  Please do take a minute to watch Imvelo's Highlights of 2021 as it will leave you feeling positive and inspired which is just what we all need right now.  We highly recommend that you grab a quick coffee and have a look.
We wish you all a happy and safe Christmas and look forward to catching up in the New Year.
Happy Christmas from H&S x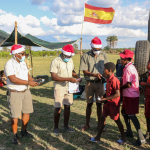 Imvelo's Highlights of 2021 
Imvelo have continued to amaze us in all they have achieved and we are so proud to be part of the Imvelo family.  They were determined to make their Smile and See Safari happen in 2021 and managed an ridiculous amount of red tape and logistical and operational genius in order to bring hope and support to these rural parts of Hwange.  Carlos Oteo Morilla is one of the amazing volunteers and created his own unique video showing the work done by this amazing team The Epic Smile and See Safari 2021. 
Their achievements include clearing 500kms of fireguards, pumping 160 million litres of water for wildlife, providing 315,000 school lunches and distributing 310 home schooling packs, recruiting 11 new scouts to the Cobras Community Wildlife Protection Unit, performing 4,007 treatments in the Smile and See programme, distributing 2,500 pairs of sunglasses, importing 28,000 text books as well as receiving a 20ft container of medical supplies, repairing wells in the communities and growing the local Ngamo Lions Soccer Academy – what a year it has been.
Why not come and see their work in action – you can visit Zim with your partner for FREE next year. All travel professionals are invited to come and visit 2 Imvelo camps absolutely free for 5 nights if you bring 4 paying family, friends or guests.
Absolutely free means everything – all transfers to/from VFA, a ride to camp on the Elephant Express, all other road transfers, accommodation, NP fees, meals, drinks, laundry, wi-fi and 2 activities per paying night at each camp. A saving of USD$6920!!!  The 5 night all inclusive deal (with transfers and NP fees) is nett USD$3460pp sharing. Let us know if you'd like further information. Valid 01 Nov 2021 to 30 June 2022.
The Bakery is back at Babylonstoren
We are so pleased to share that the Bakery has reopened at Babylonstoren, just in time for the festive season. By day, the Bakery supplies the Farm Shop and restaurants with freshly baked breads but by night, this space is transformed into a true celebration of Italian inspiration serving antipasti, homemade pasta and authentic wood-fired pizzas.  For dinners in the Bakery, food is served family style – guests help themselves from wooden boards placed on their table while sipping on wine and enjoying the lively atmosphere.
The NEW menu at Babel was also launched this week and with the lavender season in full swing, the essential oil distillery will also start extracting  the season's harvest this month. Guests can see, and smell, the process on the Essential Oils Tour which takes place every morning on the Farm.