The Stimela Star, recently launched by Imvelo Safari Lodges, is the new sleeper train connecting Victoria Falls to Hwange National Park.  The Star hooks up to the regular Falls/Bulawayo passenger train and there are five set departures this year.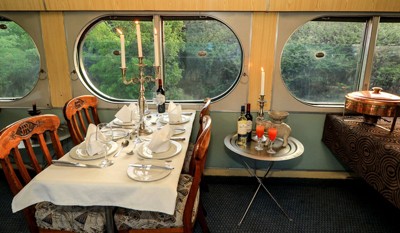 Guests join the train at Victoria Falls station where refreshments and dinner are served in the lounge car whilst swapping stories and experiences with the Imvelo guides. After coffees and nightcaps, retire to your private sleeper cabin and be gently rocked to sleep with the rhythm of the train, arriving refreshed and ready to start your safari in Hwange.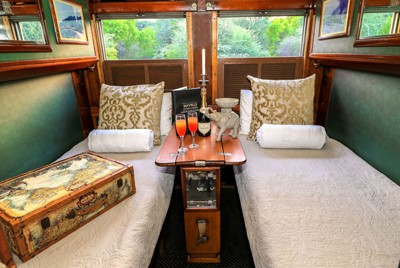 There are two sleeper carriages, for a maximum of 24 guests, in twin or single cabins. There is a bathroom at the end of each carriage with toilet and shower. Each cabin has under bed and overhead storage, electric light and 3-pin round power sockets.
Arrive in Hwange in the early morning ready for a safari adventure. Breakfast is served aboard the train before joining the Elephant Express trolley car to the Imvelo lodges in the south eastern part of the park or be met by your safari guide for your journey on to your safari lodge in the northern part of the Park